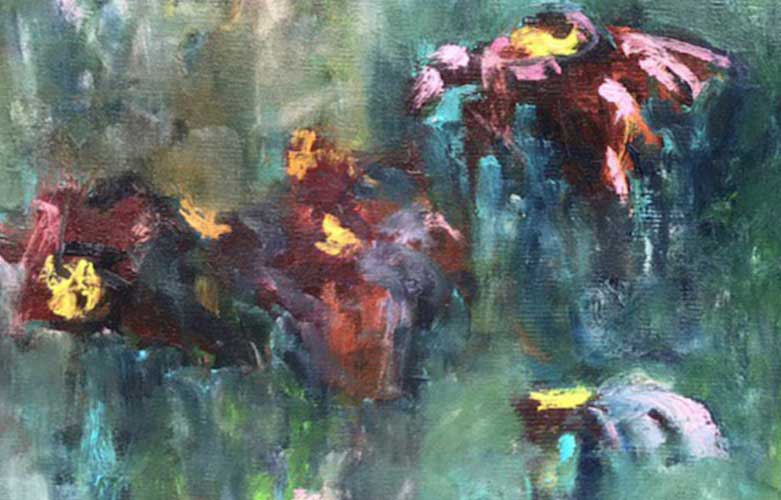 A FEW TIPS – ON WHAT TO PAINT – PART 1
Welcome once again to Emily McCormack-Artist's blog on all things Oil Painting.
For the beginner artist, it is always difficult to know what to paint. You have so many ideas on what you would like to paint. But might lack the skills to get to where you want to go, or after what feels like hours, days or weeks in some cases of working on a painting you still haven't achieved what you initially set out to do. Or worse still, you are so paralysed with fear of making a mistake or changing something, that you initially thought was brilliant. Well in this week's Oil Painting blog, hopefully, I can help you move forward, eliminate any fear and give you a few tips – on what to paint. *
TIP 1 – SET UP A STILL LIFE
Setting up a still life, is a great way to learn to paint.
In the beginning, I used to set up my old converse runners, a group of pears or a bowl of peppers on the kitchen island and spend my day off painting them. This was a great help to understanding form, texture, shape and shadows.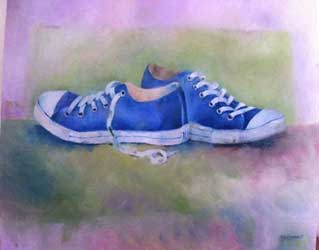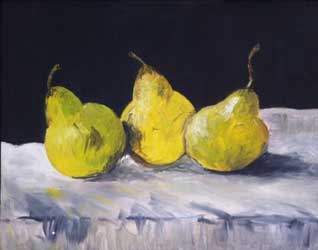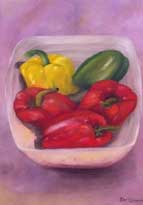 If you look at the daily painters, a recent painting movement particularly, by American artists, they will just set up a still life of maybe a lemon on a piece of card, two cups one stacked on top of the other or 2 cherries side by side. Amazingly simple but extremely effective paintings.
A few good daily painters to check out would be Carol Marine, Duane Keiser, Patti Mollica and Julian Merrow-Smith who runs Postcards from Provence and has completed some 3235 paintings to date.
Carol Marine and Patti Mollica have also published the two books in the image below which are full of great ideas and are easy to read. Carol's book will guide you in setting up and getting started on your daily painting voyage and Pattie's book will introduce you to vibrant colour palettes which hopefully will push you out of your comfort zone.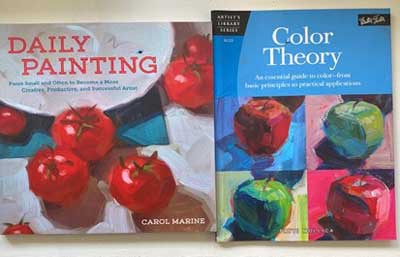 Painting small and often is a great way to get used to painting. The painting boards are inexpensive, and you will find that you will use less paint. But as a tip make sure you have good brushes. Otherwise, it can be very difficult to get the effect that you want and rectify any mistakes made.
Also, if you are setting up a floral still life, make sure you take a photo of your set up before you start painting, as over the course of the day, your flowers will move and open and close. This will happen very quickly, especially, if you have a lamp shining on the still life for creating your shadows.
The images below are some very quick small studies that I did in a workshop with the artist Dave West @davewestart before COVID 19 hit us. While I only got to attend a few workshops with him, I found him to be great and would genuinely recommend that you attend one or all of his workshops. Currently, he is online, but I understand that he will be back in Ardgillian Castle in North Co. Dublin, in the near future, when COVID restrictions are eased.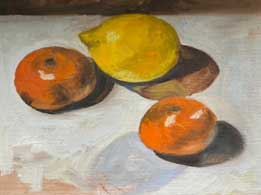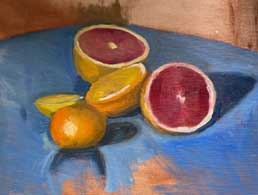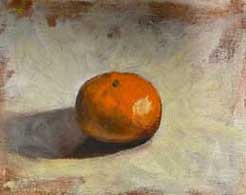 TIP 2 – A SPACE TO PAINT
It is a good idea to have a space set up where you can paint in peace.
If you must set up each time, then your brain will say "Ahh, sure we'll watch telly, or look at Facebook or pour a glass of wine…" – it will persuade you to do anything other than to paint. So, my advice is to have a space which is yours. Our previous blogs on brushes, paint, mediums, and easels are all helpful guides to get you started.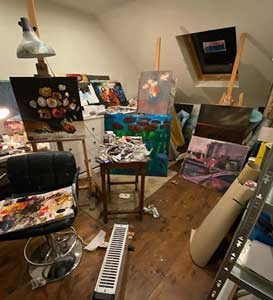 I would also suggest that you play music while you paint – be it background music or music on headphones as I find it gets you more in the zone and quietens the mind. I have purchased an old housecoat where the pockets are big enough for my phone. I plug in a set of headphones and use the Spotify App. This way I can listen to various music depending on my mood and this does not upset the household or the neighbours. I have also purchased a small Sony speaker which has Bluetooth capacity for when nobody is about.
TIP 3 – TAKING A WALK
Take regular walks – in the park, the woods, along the seashore, in the city or little towns, down along rivers and canals, in the fields and in different weather and lighting conditions.
Start looking at the sky (the colours, the location of the sun, the clouds, birds), the land including what's in the foreground and in the background – the vegetation, the colour of the trees and the leaves, the ground, mountains etc.
Try watching the light over 10 / 15 mins and you will see how much it can change.
Take walks at different times of the day – and see the change in light and shadows.
A great place to go is the beach in Baldoyle Co. Dublin – I watched it one evening and in 10 mins it changed from a palette of blues, greys and greens to wonderful pinks, whites and blacks.
Also, bring your phone and take a few snaps. Below are 3no images, 2no. from my daily walks and the other the night sky outside my home.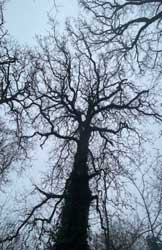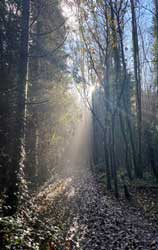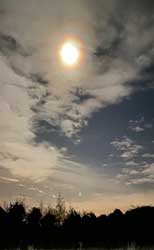 TIP 4 – KEEPING AN IDEAS FOLDER / BOX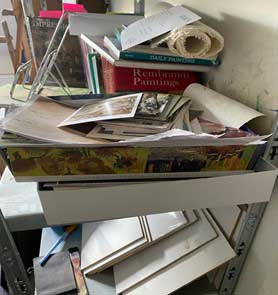 Here I am using both the lid and base of a box which was for a set of teacups – I got the box minus the cups as a present – but it has served me well over the years.
Over the years, I have filed away images, newspaper and magazine cutouts in an ideas box and numerous pocket folders which are great for flicking through. So, on days when I have paintings finished or I fancy starting something new, I can flick through these to get new ideas for the next painting project.
In the last year, the lovely Sarah @sarahkickwebservices has introduced me to OneDrive, cloud storage. I can now file ideas in categorised folders or sub-folders. This is a lot easier to access and takes up less space in the studio.
But do take note, that working from a laptop or computer screen didn't work for me when I was a beginner. I would get caught up in the detail, trying to produce something akin to the image. On one occasion, I was zooming into the image and I ended up with instead of one standalone painting, a painting that you could have cut into 4 separate paintings. It was a total disaster!
So, if you find that you have the same problem, then I would suggest heading to your local printers and printing out the images, in a low-grade quality and not on photographic paper – just ordinary printing paper. This should ensure that you will not get so hung up on the image and your own creativity should step in to fill this void.
NOTE: – Take care, however, of copyright rules and that you do not breach them.
TIP 5 – SET UP A COLLAGE OF IDEAS OR PAINT FROM MEMORY
Another idea is to get 4 or 5 images or styles of paintings of the same theme or colour palette. Pin them to a board and just use them as a guide or general idea of what you would like to paint. You should get something totally different from the initial images which is new and your own version.
You can also paint from memory, places you have visited or scenes you remember. Below are two paintings I painted from memory: –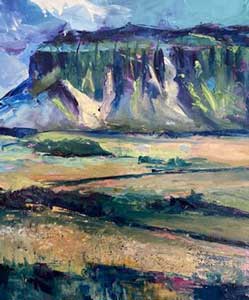 Ben Bulben, Co. Sligo –
30 x 40cm oil on board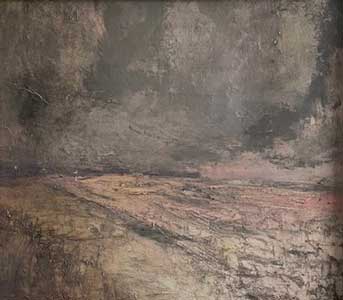 Curraghcloe Beach, Co. Wexford 
30 x 40 cm oil on board

* As always, I am not affiliated with any brands, stores, or persons I may or may not mention and your use of any of these products, links and the like are your own risk and it's up to you to do your research/homework before you use them. This is just my opinion and experience.
Become an insider, subscribe to receive
Stunning previews of new art, discounts, painting tips and early booking for painting workshops.