EMILY McCORMACK – ARTIST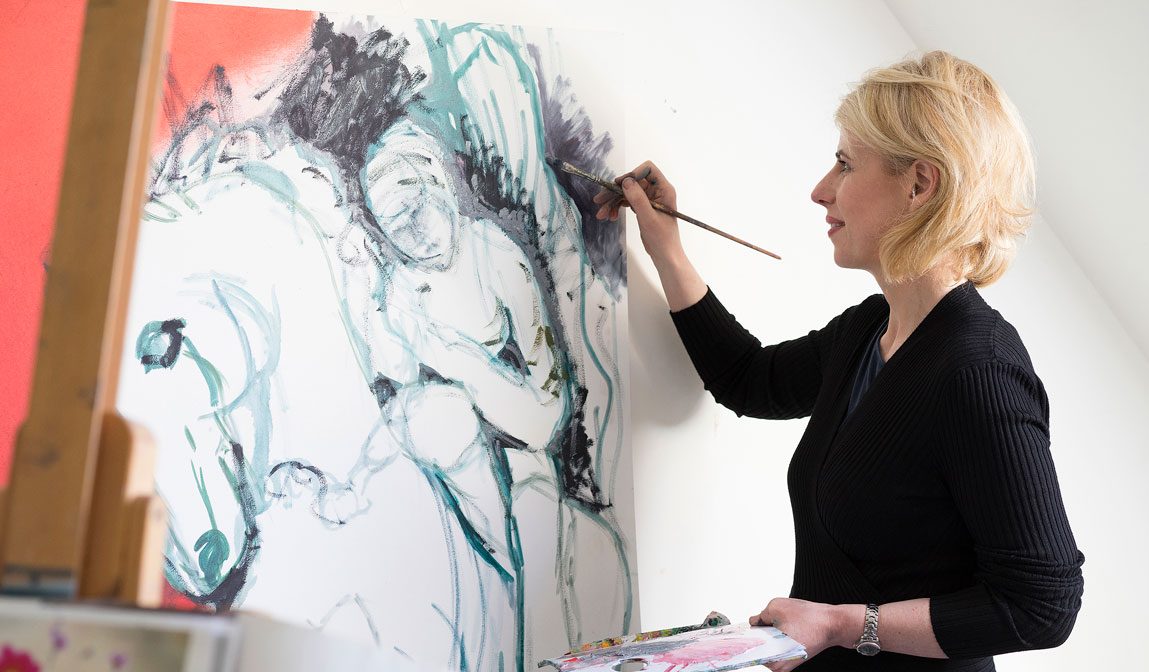 "Let yourself be silently drawn by the strange pull of what you really love.
It will not lead you astray."
(Rumi – poet)
Emily McCormack is an emerging contemporary artist who has based her art studio and gallery in Ireland's Ancient East, just minutes from Maynooth, Kilcock, Dunshaughlin and Dunboyne in Co. Meath.
Following a successful 20 year career in civil engineering and dispute resolution, training as an arbitrator; achieving four fellowships, three postgraduate diplomas from Trinity College Dublin, University College Dublin and a MSc in Construction Law and Dispute Resolution from Kings College, London decided after facing death one night to take stock of Rumi's words.
So she made an exit from the world of construction into the world of art. But this time, instead of sitting year after year in a college to attain accreditation decided to learn first-hand from the best by training alongside the great master artists such as Rembrandt, Titian, Turner, the Impressionists and all the ism's that came thereafter.
She works primarily with oil paints, pastels and charcoal. However, she also experiments with mixed media, watercolour and acrylics.
She currently exhibits in Ireland and the UK and now offers drawing and painting workshops from her studio.
You will also find her at the People's Art, St. Stephens Green (August, September, November and December) and at 131 – 132 of the railings of Merrion's Square Art every Sunday 10.30 – 6.30 (weather permitting), 'when selected' on Morgan O'Driscoll's upcoming online art auctions and her Facebook and Instagram pages.
If death has taught me anything it is that we are only here for a blink of an eye, so with that said I refuse to be defined by a style even though that is what is demanded of today's commercial artists. I also refuse to be a realist/photo-realist artist as being the wrong side of 40 I don't have the time left nor the luxury to spend a week, a month or a year on any one painting.
Instead, I have decided to paint that which I cannot get out of my mind, heart and soul until it's committed to canvas and to have at any one time at least 7 paintings on the go.
Over that last year through the layering and working with oil paint I have to say that I have experienced incredible moments of real peace, discovery and pure joy. My way of life and wellbeing has totally transformed for the better since taking up art and this new way of life.
My ultimate aim in what is left of this lifetime is to share this creative road map with all those out there who have a similar desire to paint and delve into and discover their creative side and I hope to exit this world with a bank of art that will inspire in my absence.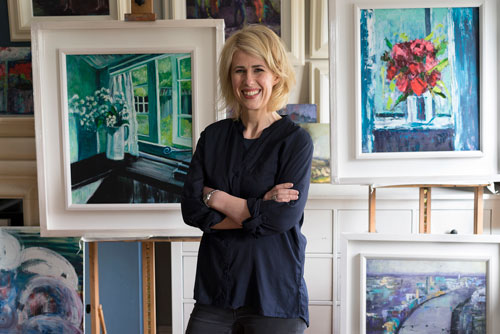 Creativity is contagious. Pass it on.
(Albert Einstein)