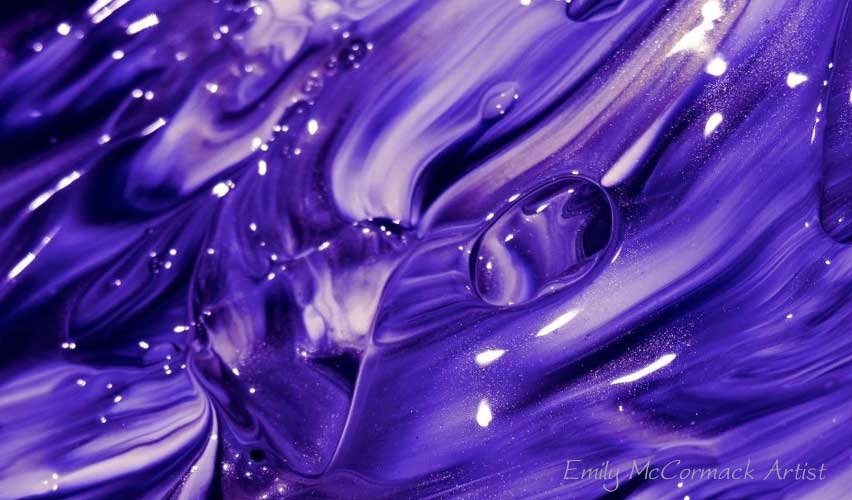 A hundred thousand welcomes or an Irish 'Céad Míle Fáilte' to our 20th blog issue on all things Oil Painting.
If you have been following us, you will know that we are currently making our way through the Secondary Colours. In our last issue, we looked at the colour Green. In this week's issue, we are taking a very high-level look at the colour PURPLE…..Or is the correct term VIOLET?
Now, if you have been following my progress to date, on this website or any of the social media platforms such as Instagram, Facebook or LinkedIn, you will notice that I used to paint a lot of originals and studies after Monet with the colour Violet. *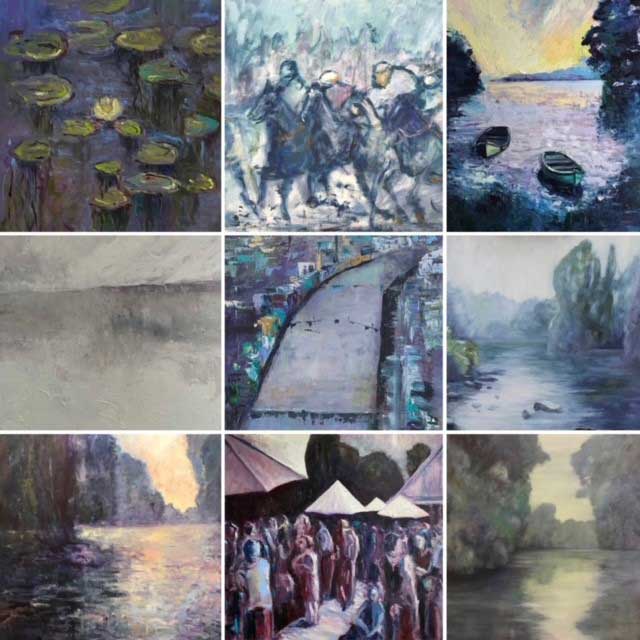 FACT 1 – IS IT PURPLE OR VIOLET?
So, what's the difference between purple and violet????
Well, first off, violet is a true colour, that forms part of the electromagnetic spectrum first identified by Sir Isaac Newton in the 1660's and forms part of the 7 colours of the rainbow.
As a rule of thumb, violet is bluer than purple which is more reddish in tone. Other shades/terms for violet include Lilac and Tyrian Purple, Orcil, Magenta, Mauve or Heliotrope. (St. Clair, 2016)
Violet/purple has been around since prehistoric times with traces of it having been found in the caves of Altamira and Lascaux (Ball, 2001).
According to Kassia St Clair in her wonderful book – 'The Secret Lives of Colour (2016)', Tyrian purple was 'a symbol of the wealthy and elite, helped establish the link with the divine' and was the toga colour choice of Julius Caesar when he came home to Rome after Cleopatra birth him a son. It was made from 'two varieties of shellfish native to the Mediterranean' where 'the liquid harvest from the shellfish glands was placed into a vat of stale urine (for the ammonia) and allowed to ferment for 10 days before the cloth was added. As 'each specimen contained a single drop it took around 250,000 to make an ounce of dye.'
FACT 2 – SHADES OF VIOLET – THE IMPRESSIONIST'S CHOICE
NOTE: Again, these facts have been extracted from Kassia St Clair's book – The Secret Lives of Colour.
In 1874, Degas, Monet, Cezanne, Pissarro founded the Anonymous Society of Painters, Sculptors, Printmakers &c., and organised their first show, as a protest or snub to the Académie des Beaux-Arts, which had just rejected their work for the prestigious annual Salon Exhibition. At the time, the establishment was equally scathing about the Impressionists and the journalist and art critic for Le Charivari newspaper 'Louis Leroy accused Monet's Impression, Sunrise of not being a finished painting at all but a mere preparatory sketch'. (St Clair, 2016)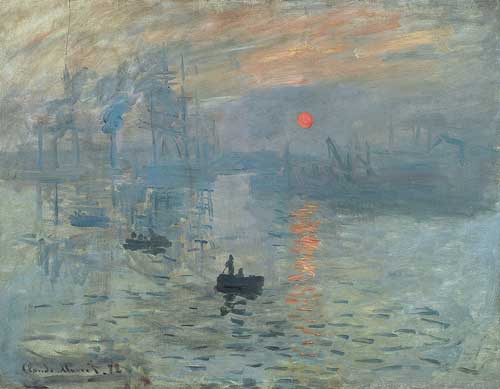 IMPRESSION SUNRISE
(1872)
Claude Monet (1840–1926)
Musée Marmottan Monet
'Many concluded that the artists were, to a man, completely mad, or at the very least suffering from a hitherto unknown disease, which they dubbed 'violettomania'. It would be as difficult to persuade Pissarro that the trees were not violet, joked one, as to persuade the inmate of a lunatic asylum that he wasn't the Pope in the Vatican. Another wondered if the artists' fascination with the colour was a result of the Impressionists spending too much time en plain air' ….. Alfred de Lostalot, 'hypothesised that' Monet' 'might be among the rare number of people who could see into the ultraviolet part of the spectrum' ….. 'He and his friends see purple….[T]he crowd sees otherwise; hence the disagreement.'  (St Clair, 2016 & O. Reutersvärd, Journal of Aesthetics and Art Criticism, Vol 9 No.2 (Dec, 1950))
The impressionists were of the view 'that shadows were never really black or grey, but coloured'. (St Clair, 2016) They also believed 'that since the complementary colour to the yellow of the sunlight was violet, it made sense that this would be the colour of the shade'. (St Clair, 2016)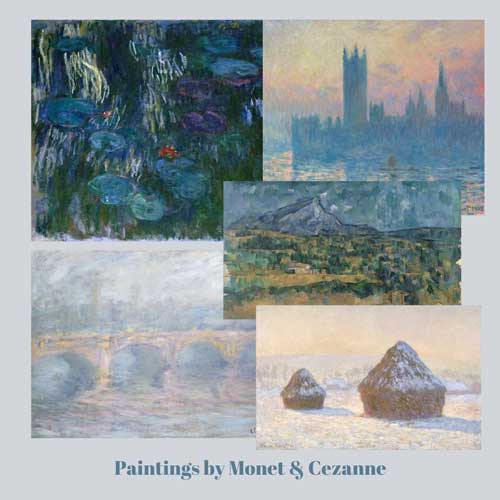 FACT 3 – VIOLETS TO CHOOSE FROM
The following is a simple guide of some of the Violets currently available on the market. (I got this listing from the K&M Evans website.)
For ease of reference, I have also bolded the Violets currently in my own painting kit. However, I generally make up my own shades of Violet, which, I suggest is a good idea. Especially, if you are a beginner, as this way you will learn a lot more about colour mixing.
Gamblin (6no.)
Cobalt Violet
Quinacridone Violet
Manganese Violet
Dioxazine Purple
Radiant Violet
Ultramarine Violet
MICHAEL HARDING (additional Violets to the above)
Amethyst
Deep Purple (Dioxaxine)
Cobalt Violet Dark
Cobalt Violet Light
OLD HOLLAND (additional Violets to the above)
Ultramarine Red Pink
Old Holland Violet Grey
Royal Purple Lake
Manganese Violet-Reddish
Manganese Violet-blueness
Dioxazine Mauve
Schev Purple Brown
Cadmium Red Purple
Scheveningen Violet
Old Holland Bright Violet
WINSOR NEWTON ARTIST (additional Violets to the above)
Violet Dioxine
Permanent Mauve
Purple Madder
Mauve Blue Shade
Purple Lake
Windsor Violet Dioxine
FACT 4 – HOW TO MIX YOUR VIOLETS
When mixing colours, always check your initial colours before mixing and ask yourself which colour it leans more towards. If you are not too sure by looking at the original colour, then add a little Titanium White to it or as I have done, Zinc White and this should help with seeing the true colour undertone.
Just to note that Zinc White is a transparent white, which I had to hand, so you might be better sticking to Titanium White which is opaque (i.e. you cannot see through it).
So, if we look at the following colours: –
Ultramarine Blue – is more blue violet
Cerulean Blue – is more blue-green
Quinacridone Violet (Magenta) – is more red violet
Cadmium Red – is more red orange
If you mix Cerulean Blue and Cadmium Red you are going to get a muddy/dull brownish violet.
Whereas, if you mixed Ultramarine Blue with Quinacridone Violet, as shown below, you will get a brighter more vibrant violet, as there is more of a violet bias in both of these colours. So, when mixed, the red and blue cancel themselves out and you are then left with the remainder which is violet.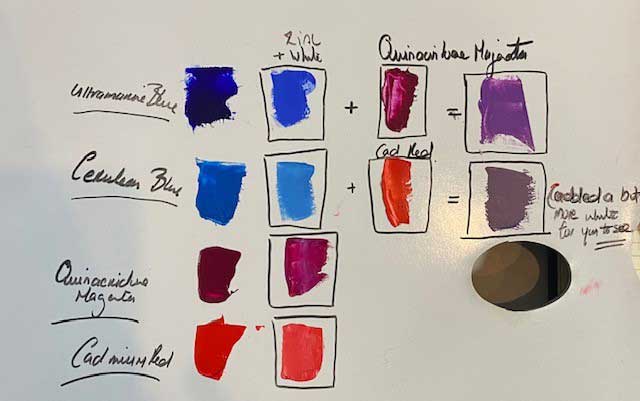 To desaturate/dull your VIOLETS just add its complement YELLOW – YES that's the colour opposite to it on the colour wheel.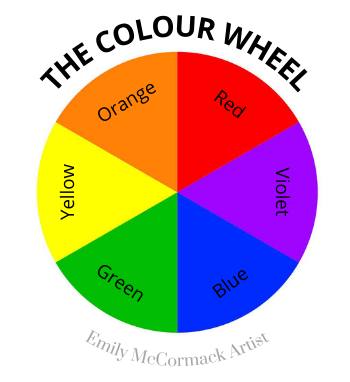 Also, if you want to make your Violets SING on a painting then place a warm or cool yellow depending on whether your purple is warm or cool beside it. So, if you have a warm Violet such as cobalt violet then try a cool yellow such as Cadmium Lemon Yellow, Hansa Yellow or Naples Yellow with White beside it.
Another colour that works really well with Violet is Yellow Green which you can use in various values and if you include Yellow Orange you will be working with a split complement – which is the colours either side to the main complement, which in this case is YELLOW.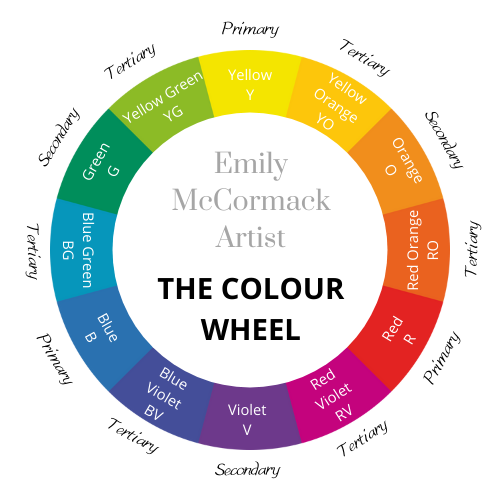 To lighten your Violet, you can create a TINT – by adding titanium white or darken it by adding ivory black which is called a SHADE.
A little more on Violet….
A SIMPLE VALUE AND COLOUR GUIDE – (WITH 1 BEING THE DARKEST VALUE AND 10 BEING THE LIGHTEST VALUE)
| COLOUR | VALUE | TEMPERATURE |
| --- | --- | --- |
| Dioxazine Purple | 2 | COOL |
| Ultramarine Violet | 2 | COOL |
| Quinacridone Violet | 2 | COOL |
| Manganese Violet | 2 | Warm |
| Quinacridone Violet | 3 | COOL |
| Cobalt Violet | 3 | WARM |
| Radiant Violet | 7 | COOL |
FACT 5 – FAMOUS ARTISTS WHO USED VIOLET
The most famous artist to use violet would have probably been, Monet, so check out his Lily, Haystack, Snow and Rouen Cathedral Series of paintings. But a few more artists include Marc Chagall, Andre Derain, Rothko and Matisse to name a few. However, I thought you might like the following 3 images from O'Keefe, Cassatt and Van Gogh.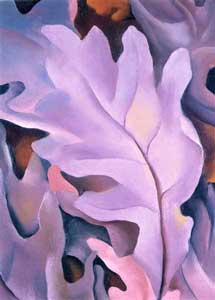 PURPLE LEAVES
(1922)
Georgia O'Keefe (1887-1986)
Dayton Art Institute (DAI), USA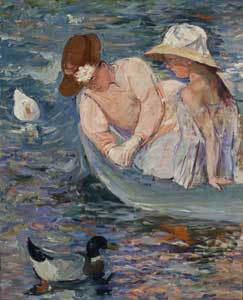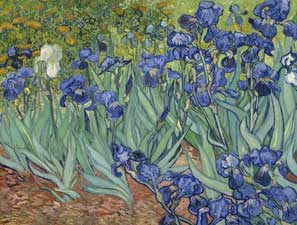 LES IRIS
(1889)
Vincent Van Gogh (1853 – 1890)
J. Paul Getty Museum
California, USA.
In our next blog, in two weeks' time, we will be looking at the colour Orange.
Over the next few months, we will also be gradually opening back up the studio for workshops – if you would like to be kept informed as to the timetable and workshops on offer feel free to subscribe to our waiting list.
 Until then stay safe and keep painting.
Emily McCormack
2021
* As always, I am not affiliated with any brands, stores, or persons I may or may not mention and your use of any of these products, links and the like are your own risk and it's up to you to do your research/homework before you use them. This is just my opinion and experience.
Become an insider, subscribe to receive
Stunning previews of new art, discounts, painting tips and early booking for painting workshops.