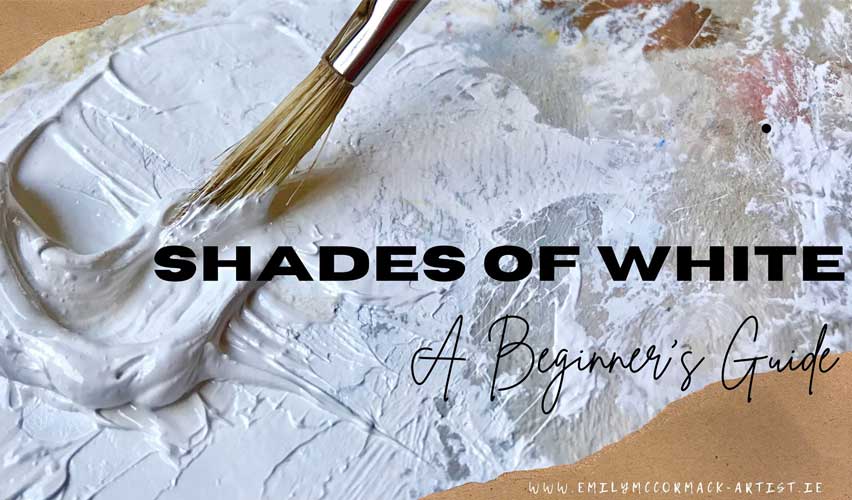 Welcome to this week's Oil Painting blog.1 As we are heading into the Christmas Season, a little blog on the colour White might get us thinking of snow, mulled wine and evenings sitting beside a roaring log fire. Yes, I hear you, STOP, we haven't even had Halloween yet!
And to stop on another front, because White, technically is not a colour, given that it hasn't a specific wavelength. Unlike the 6 main colours, which have the following approximate wavelengths: –
Red  700
Orange  600
Yellow  580
Green  550
Blue  450
Violet  400 2
Instead, it is known as achromatic (having no hue/colour).
WHITE – THE INTRODUCTION
White, was originally used by my all-time favourite artists, the palaeolithic artists, some 18,000 – 17,000 years ago. They would ground up calcite or chalk, to create a background for their cave paintings or add an additional highlight or outline to their created images. 3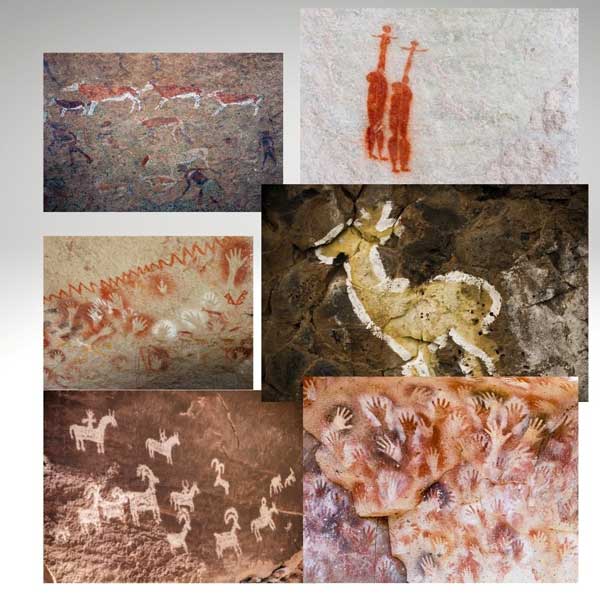 Throughout the ages, White has been used to symbolise everything from purity, innocence and cleanliness to death/sickness, monarchies, and supremacy.
When I think of white, I think of brands like Colgate Toothpaste, Avonmore Milk, Chanel, and the good old American white egg.
For us artists though, it's not the brand, but the pigment of white that takes our interest. So, let's begin….
THE MOST POPULAR WHITE
For centuries, Lead White was the staple white used by European artists. The Roman, Pliny the Elder, wrote about it in his book Natural History stating it was poisonous if swallowed.4
The Dutch artists such as Frans Hall and Johannes Vermeer used it extensively in their paintings.5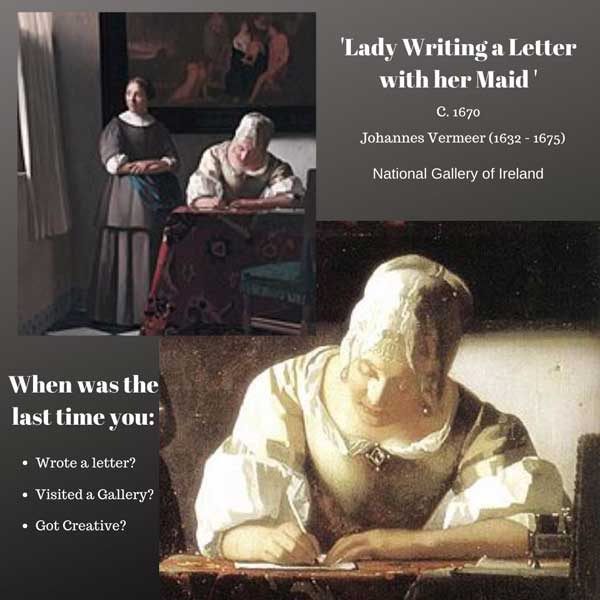 Not to mention the English artist, Whistler, who felt very ill, while painting his symphony in white series – some say this was due to the use of Lead White.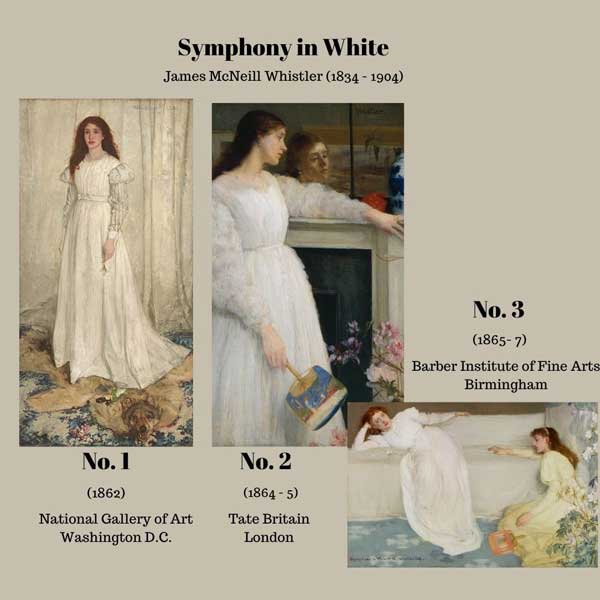 While, Lead White, created lovely warm hues of white, it was unfortunately not without its side effects, as noted in 1678 by Sir Philiberto Vernatti, who described the fate of those involved in the production of white lead –
"The Accidents to the Workmen are, Immediate pain in the Stomack with exceeding Contorsions in the Guts and Costiveness that yields not to Carthaticks… It brings them also to acute Fevers, and great Asthma's or Shortness of Breath … Next a Vertigo or dizziness in the Head with continual great pain in the Brows, Blindness, Stupidity; and Paralytick Affection; loss of appetite, Sickness and frequent Vomitings, generally of sincere Phlegm, sometimes mixed with Choler to the extreamest weaknings of the Body." 6 basically all of which was lead poisoning.
So, hence the modern movement to Titanium White, first mass produced in 1916, commercially available in 1921 and by the end of the Second World War had conquered 80% of the market.
Another white, that is commonly used is Zinc White, it's like Titanium White but it's more transparent than it and can be used to create wonderful misty mornings when combined with cold wax. If you are a beginner, make sure your painting is dry before applying this mix.
SHADES OF WHITE
Gamblin
Titanium White
Zinc White
Flake White (& replacement)
Cool White
Warm White
Titanium Zinc White
Radiant White
Cool White – has a touch of blue in it and Warm White, a touch of yellow.
Michael Harding (extra to the above)
Old Holland (extra to the above)
Windsor and Newton (extra to the above)
If you are a beginner, a word of caution, try refraining from using too much white at the start of your painting journey. Now, for the record I'm not saying DON'T USE WHITE as you will see from many of my own paintings, I use a ton of the stuff. However, as a beginner you have a lot on your plate, learning to mix colour, hold the brush, what surfaces to use, plan your composition etc and while using white seems like a great idea, it can leave your colours and painting looking chalky. So, try using other colours to brighten a colour such as mixing yellow or orange to brighten a red or green and then compare those mixes with your white and red or green mix.
ARTISTS WHO USED WHITE
A few artists worth looking up include Laurence Stephen Lowry (L.S. Lowry) made famous for his matchstick men, Monet's snow scene series, Frank Bramley's Kingdom of Heaven (1981), Piero Manzoni's Achrome, John White Alexander's Repose, Anne Redpath's Still Lives and Sorolla's Mother, along with the following: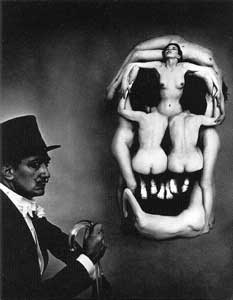 Women Forming a Skull
(1951)
Salvador Dali (1904 – 1989)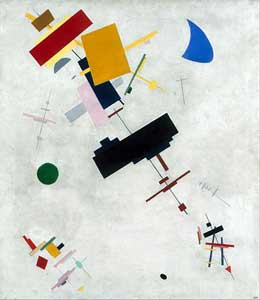 Suprematism
(1915)
Kazimir (1878 – 1935)
Russian Museum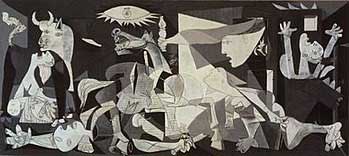 Guernica
(1937)
Pablo Picasso (1881 – 1973)
Museo Reina Sofia
Madrid, Spain
In our next blog, in two weeks' time, we will be looking at the Shades of Black – thereafter we are going to delve into a few of the artist movements!!
Over the next few months, we are also gradually opening back up the studio for workshops – if you would like to be kept informed as to the timetable and workshops on offer feel free to subscribe to our waiting list.
Until then stay safe and keep painting.
Emily McCormack
2021
Notes
1As always, I am not affiliated with any brands, stores, or persons I may or may not mention and your use of any of these products, links and the like are your own risk and it's up to you to do your research/homework before you use them. This is just my opinion and experience.
2 Nassau, 'Colour Optics' (Britannia, 2020) (https://www.britannica.com/science/color) accessed 19 October 2021
3 Wikipedia, 'White' (2020) (https://en.wikipedia.org/wiki/White) accessed 19 October 2021
4 V Finlay, Colour (Hodder and Stoughton 2002)
5 J Janson, 'Vermeer's Palette: Lead White' (2021) (http://www.essentialvermeer.com/palette/palette_white_lead.html) accessed 19 October 2021
6 K. St Clair, 'The Secret Lives of Colour' (John Murray 2016)
Become an insider, subscribe to receive
Stunning previews of new art, discounts, painting tips and early booking for painting workshops.