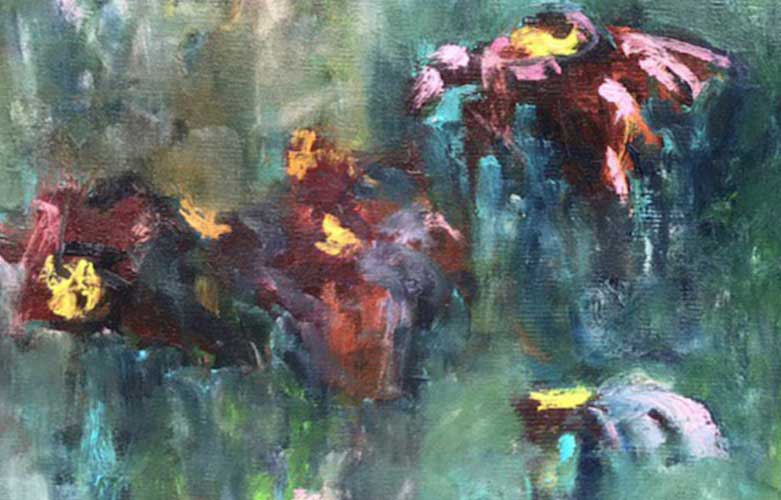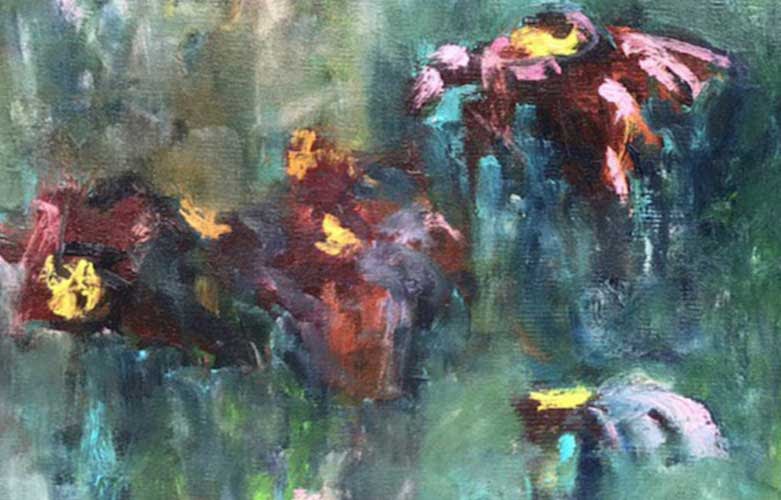 A FEW TIPS – ON WHAT TO PAINT – PART 2
Welcome once again to Emily McCormack-Artist's blog on all things Oil Painting.
For the beginner artist, it is always difficult to know what to paint. In our last blog, we looked at my first 5 tips – on what to paint. This week we will look at my next 5 – TIP'S 6 – 10. *
TIP 6 – ASK FRIENDS TO SEND YOU IMAGES
Over the last year, I have been lucky enough to connect with old friends now scattered all over Ireland. In Co. Cork, I have Babs @babseire whom I first met when I was 5 years old. We have been friends now for nearly 40 years. Apart from being a biochemist and great chef, Babs is also a brilliant photographer. Since lockdown, she has been sending me images that she took in Cork and Kerry. I'm currently working my way through them as we speak. The image below is of a painting I recently completed of Rossbeigh Beach in Co. Kerry – 50 x 60cm oil on board – which is from one of Babs' photos.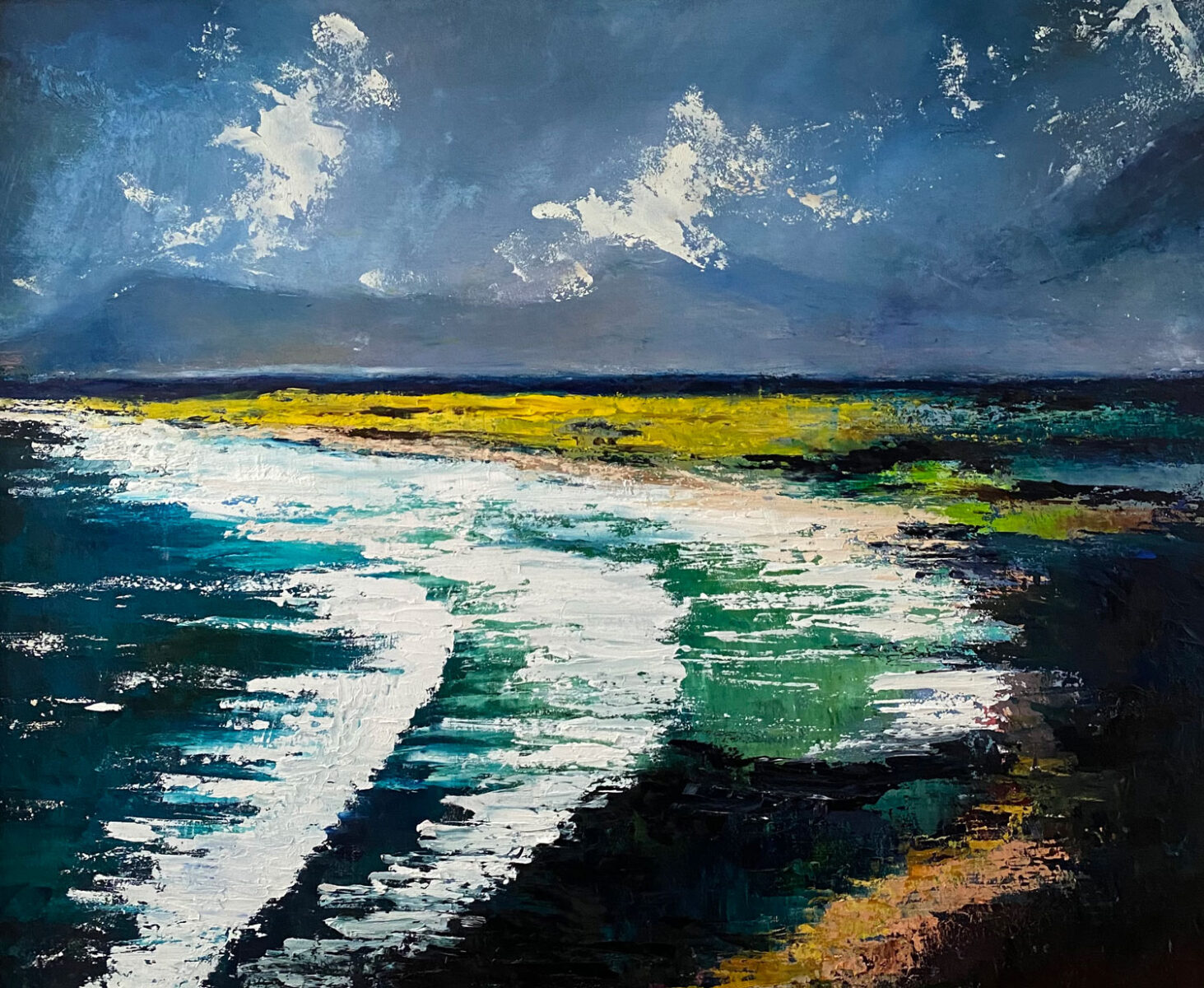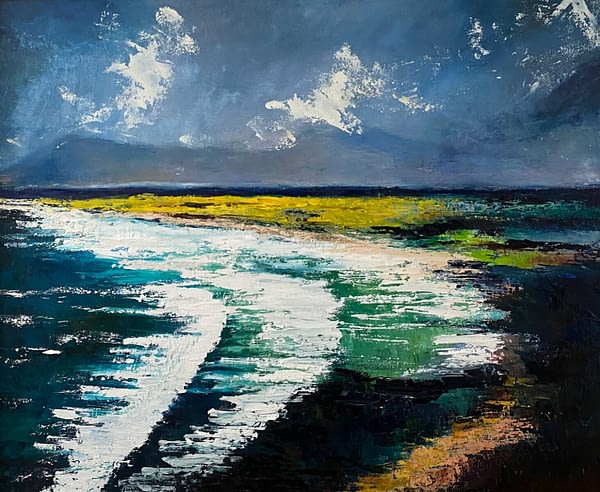 TIP 7 – PINTEREST AND INSTAGRAM
I would also suggest the Pinterest and Instagram Apps. Up until late 2018 / early 2019, I had never been on social media. I refused to go on it. So, if you are reluctant, I totally hear you. But the two Apps, I find the best for broadening your ideas are Pinterest and Instagram.
Pinterest will start out not great, but the more you key in your subjects, the more it will grow to know your preferences and then you will start getting a great feed of ideas. You can set up boards and then save/pin the images you like to your boards. It could take a few months for you to get a good range of images sent to you but start by keying in various artists both old and new that you like, and it will start to get to know you. The lovely Sarah @sarahkickwebservices has recently helped set up my profile on Pinterest should you like to visit us – Emily McCormack-Artist.
Instagram is another wealth of ideas and styles of painting. You can stay private, or you can have your profile open to the public like me @emilymccormackartist. The beauty of this App is you can follow whoever you like, and you won't be bombarded with unwanted images akin to Facebook. Two pages I like to follow, are @portraitpaintingsdaily and @panterandhall, both show some brilliant work by other artists.
On Facebook, you can join as a member and follow groups such as New Irish Art, Irish artists and/or Contemporary Landscape Paintings.
TIP 8 – JOIN A PAINTING WORKSHOP
Joining a workshop is a great way to get you out of your comfort zone, meet fellow artists and try new techniques. Some of the workshops I have attended in 2017/2019 and would recommend are as follows:
Henry McGrane – henrymcgrane.net
Henry is a local artist based outside Navan, Co. Meath and who I originally started painting with.  He has incredible patience and will guide you safely through each of your painting projects – giving you great tips and tricks along the way on how to achieve your desired result. He also does a full demonstration on the first night of each painting course which helps you see his own painting process.
Kevin McSherry – mcsherrystudio.com
The last workshop I attended with Kevin was on gilding. It was a day-long workshop where we got to work with acrylic paint and gold leaf. It was extremely enjoyable, relaxing and informative. He keeps the class numbers small, so you get individual attention during the workshops. He is currently doing online workshops from his studio.
Schoolhouse of Art – schoolhouseforart.com
The Schoolhouse of Art is based in Enniskerry, Co. Wicklow. The last workshop I did there was given by Fergus A. Ryan and was on egg tempera – painting with pigment and the yolk of an egg which acts as the binder. It was a great two days and money well spent.
Like most businesses, they are now hosting weekly online workshops. If you search online you will see workshops hosted by Dave West, Nicolas Robinson and the seascape artist Brenda Malley to name but a few.
Our Art School at Emily McCormack Artist
Here at the painting workshops, we first do an A2 pastel drawing to ease us into our painting practice and to forget about the week and everything we have to do. These drawings are a great way to expand the beginner artist's knowledge of other artists throughout the ages such as Munch, Picasso, Degas, Eardley and Monet to name but a few: –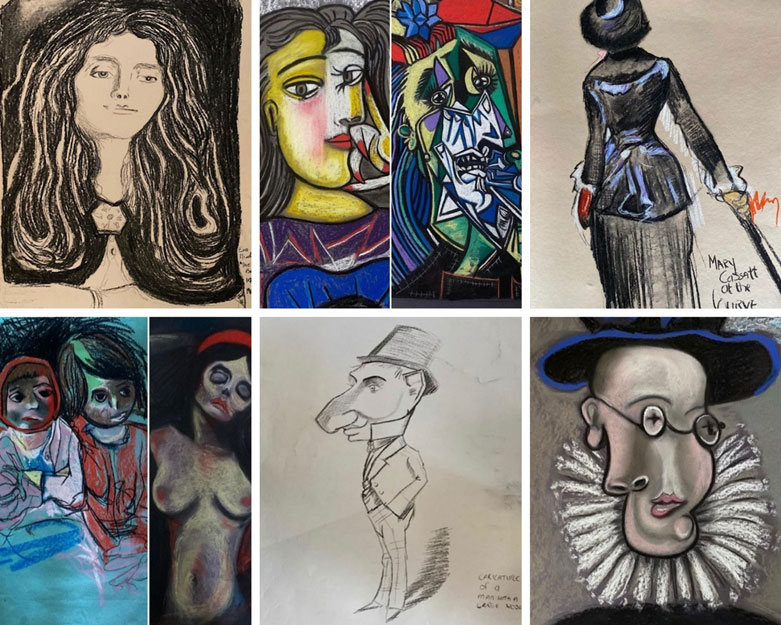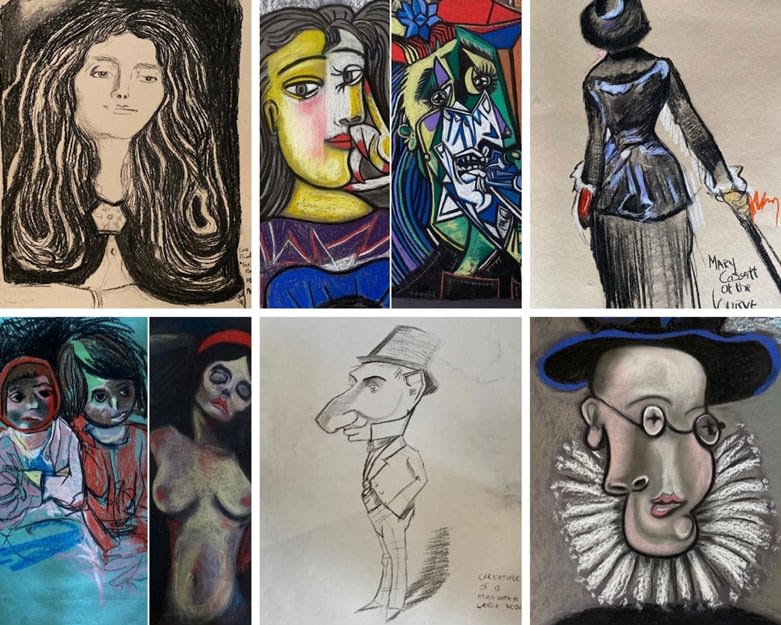 We then take a look at paintings by the old masters such as Degas, Leech, Van Gogh and Sorrolla or some originals by me and the students have a go at them. We also spend time working on each student own painting projects.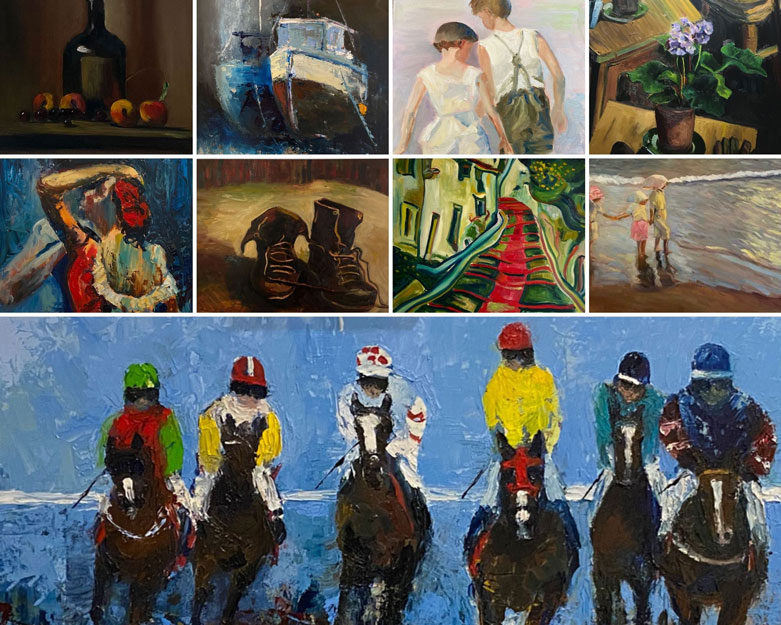 TIP 9 – VISIT ART MUSEUMS, GALLERIES AND EXHIBITIONS
Take a day off to visit our national art museums, their collections and running exhibitions. In Dublin we have the National Art Gallery, the Hugh Lane Gallery, the Royal Hibernian Academy (RHA), the Irish Museum of Modern Art, the Chester Beatty Library and in Cork, the Crawford Art Gallery.
While you are there, check out their bookstores which are all good. They usually have a great collection of postcards and posters of the paintings within their collections which you can purchase and study at home. In tandem with that, they will also often have catalogues on their national collections and ongoing exhibitions.
The last 2 catalogues I purchased were a) Sorrolla – Spanish Master of Light – published by the National Gallery, London and the National Gallery of Ireland, Dublin and b) Edvard Munch – Love and Angst published by the British Museum.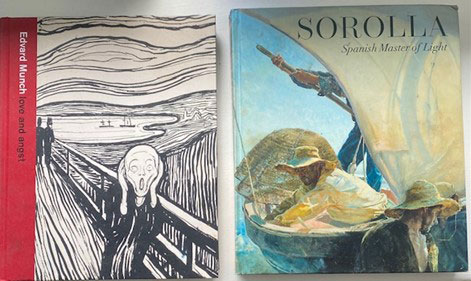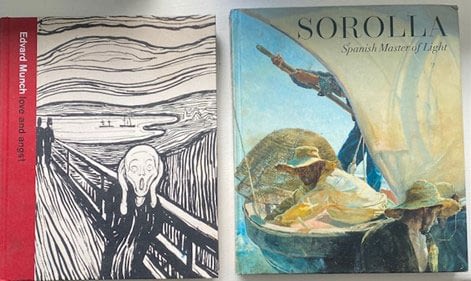 In the Hugh Lane Gallery, you will get to see Francis Bacon's very own studio – and if you think mine is bad wait till you see his!!! They also run great art workshops. I used to do their figure drawing workshop on Saturday mornings where we would draw the model/figure from life, either in the gallery space itself or if they were nude, then upstairs.
A great walk I love doing (when I'm not exhibiting) is starting at Merrion Square and looking at the outdoor art gallery which consists of nearly 100 artists, then heading into the National Art Gallery. If you join as a yearly member you will get 10% off on their bookstore and café. I then exit out the new block and head to Dunne and Crescenzi on South Frederick Street for a coffee. If they are open, I will also call into the Oriel Gallery and the Trinity Art Gallery on Clare Street. Thereafter I will head to Gormley's and the Back Door Gallery.
Other Dublin galleries which are favourites of mine are the Sol Art Gallery, the Solomon Art Gallery and the Jorgensen Gallery.
If you can get to London – the Tate Britain and Tate Modern, the National Portrait Gallery, the National Gallery, the Royal Academy, Barbican Gallery, the Courtauld Gallery are all great galleries to visit.
On Friday nights, I used to attend the drawing workshops in the National Portrait Gallery which were free and they supplied you with drawing materials. You could also have a glass of prosecco to start you off in their popup bar downstairs.
TIP 10 – START AN ART BOOK COLLECTION
Hodges and Figgis and Chapters bookstore in Dublin have great selections of art books. Chapters also have a good secondhand art section upstairs.
Online, I use Book Depository which has free delivery and uses An Post. For books that are very hard to find, I use – AbeBooks.
Antonia's Bookstore in Trim, Co. Meath will also source art books for you and have them delivered to your doorstep.
Below is a sample of some of the art books I keep in the upstairs studio.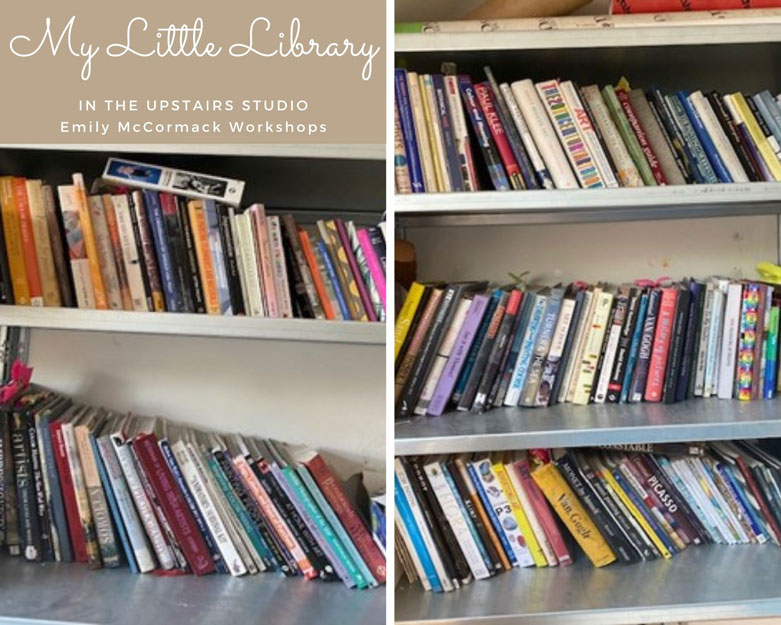 So, that concludes some of my top tips on ideas of what to paint.
You could also try seeking out workshops and youtube videos where different media are taught such as watercolour, guache, oils, mixed media, encaustic painting, collage, acrylic and even ceramics.
To get you going, try and paint a few landscapes, seascapes, a portrait or two or set up a still life with dramatic lighting and see what you come up with.
You could also try a painting from memory or repainting over an old painting which was probably the best tip I ever learned.
Remember to keep the artwork that you make. Put it up in places where you have a cuppa and look at them, turn them upside down or the wrong way around to see where you might be going wrong or why it doesn't meet the standard you have set yourself.
Finally, start noticing which paintings you like – ones that tell a story (narrative) or ones that make you feel (expressive). This will give you an early indication of what type of artist you will become in the future.
In our next blog, we will be looking at prehistoric art and who it influenced….
Emily McCormack
May 2021
* As always, I am not affiliated with any brands, stores, or persons I may or may not mention and your use of any of these products, links and the like are your own risk and it's up to you to do your research/homework before you use them. This is just my opinion and experience.
Become an insider, subscribe to receive
Stunning previews of new art, discounts, painting tips and early booking for painting workshops.