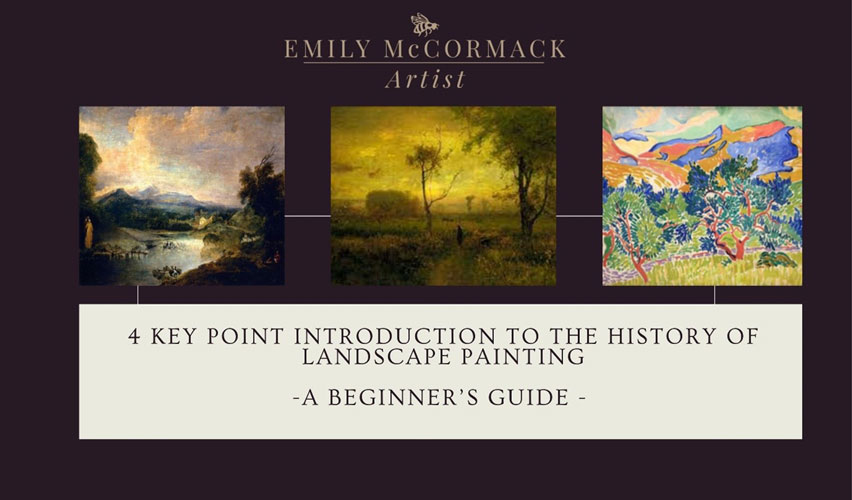 Welcome, Welcome, Welcome to September's Oil Painting Blog.
We are delighted to be back after such an amazing Summer. We have a jam-packed series of blogs ready and waiting to be released to you each month as we roll on into the Autumn / Winter including a fabulous Christmas edition.
This month we are going to begin on a gentle note to ease you all back in again with a 4 Key Point Introduction to the History of Landscape Painting – A Beginner's Guide. *
Key Point 1 – The History of Landscape Painting – When it all Began – An Introduction
Landscape painting is a relatively new development in Western Art.
Whereas, in Oriental Art, its history dates back more than 1,000 years. [1]
Initially, in Chinese Art, for example, it began, as a way to narrate stories and poems. It was predominantly monochromatic, using black ink on silk, then moving to paper after its invention in the 1st Century. This style of art, concentrated on brushstrokes and a water/mountain theme. [2]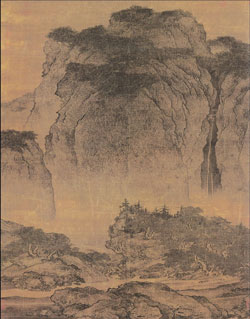 Travelers Among Mountains and Streams
Fan Kuan
Song Dynasty (960-1279)
In European Art, around the 16th Century, Albrecht Altdorfer is considered by many to have painted the first "pure" landscape. He along with the Danube School of Landscape Art, of which he was a member, is accredited with transforming landscape art into an independent genre of its own right. [3]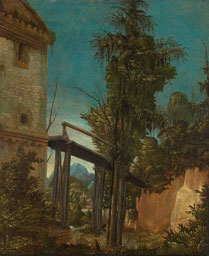 Landscape with Footbridge
(1517-20)
Albreact Altdorfer
National Gallery, London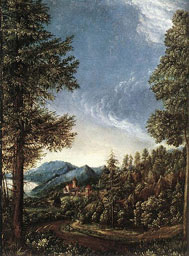 Landscape with Castle near Regensburg
(1522-25)
Albreact Altdorfer
Alte Pinakothek, Munich Germany
Prior to this, and particularly in the Renaissance period, landscapes were generally treated by artists, including Andrea del Verrocchio, Leonardo da Vinci and Albrecht Dürer as backdrops in their paintings. [4]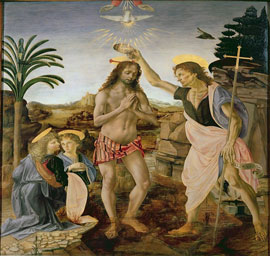 The Baptism of Christ
(1472–1475)
Oil on Wood
Andrea del Verrocchio and Leonardo da Vinci
Uffizi Gallery, Florence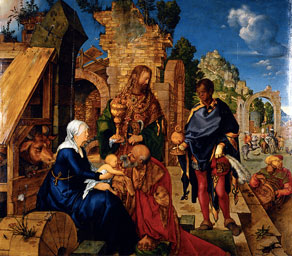 Adoration of the Magi
(1504)
Oil On Wood
Albreacht Dürer
Uffizi Gallery, Florence
Key Point 2 – Landscape Painting – What Exactly is it?
Landscape painting is the depiction of natural scenery in art. Such paintings can capture mountains, valleys, bodies of water, fields, trees and forests, coasts and may or may not include man-made structures as well as people. [5]
Sky is almost always included in the view, and the weather is often an element of the composition. [6]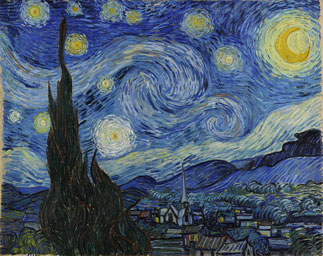 The Starry Night, Saint Rémy
1889
Vincent Van Gogh
The Museum of Modern Art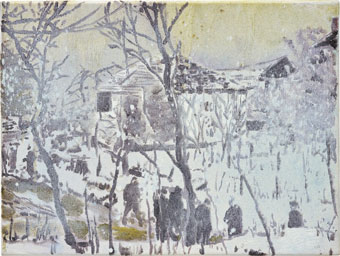 Slushy Landscapes (with Figures)
1995
Peter Doig
Private Collection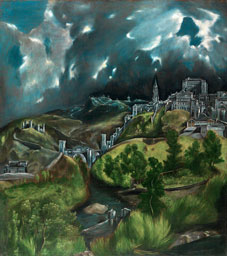 View of Toledo
1596-1600
El Greco
MOMA, NY City
Key Point 3 – Landscape Painting – How did it Develop?
In the 17th Century, artists from the Dutch and Flemish schools began to concentrate on light and weather, leading to a period know as the Dutch Golden Age [7] which was influenced by Italianate and realist styles. Figures became smaller and/or were used to depict scale within the paintings.
In England, artists such as Thomas Gainsborough, used landscape painting to show off the houses and estates of their wealthy patrons. [8]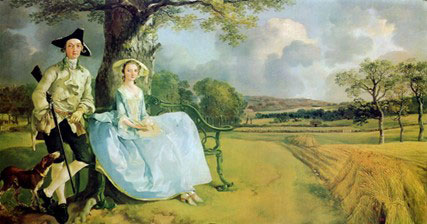 Mr and Mrs Andrews
1750
Thomas Gainsborough
National Gallery, London
In France, Jean – Antoine Watteau (combined beautiful scenery with outdoor conviviality and Jean-Honore Fragonard produced frothy foliage and clouds. [9]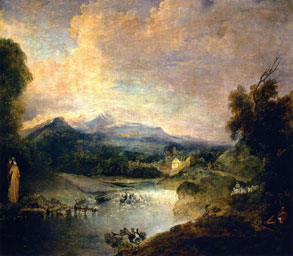 Landscape with Waterfall
Jean-Antoine Watteau
The Winter Palace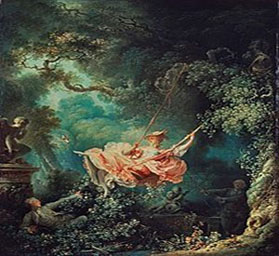 The Swing – (L'Escarolette)
1767
Jean-Honore Fragonard
Wallace Collection, London
After the French Revolution and Napoleonic Wars, and with contributions from artists such as J.M.W Turner and John Constable landscape painting really thrived as an artform.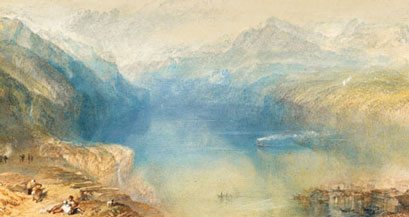 The lake of Lucerne from Brunnen
(1842)
J.M.W Turner
Private Collection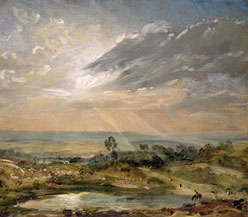 Branch Hill Pond
(1821)
John Constable
Victoria and Albert Museum, London
Key Point 4 – Landscape Painting – Turn of the Century Advancements
While Turner most certainly pushed landscape painting to the forefront, other advancements such as the invention of the metal paint tube and ferrule on brushes, the colour wheel, the plein air pochade, new premixed paint and colours, coupled with developments in steam travel allowed landscape painting to expand to new horizons and indeed new movements such as impressionism, neo-impressionism, favism, tonalism and expressionism to name a few.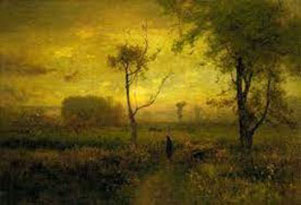 TONALISM
Sun Rise
1887
George Innes
The Met, New York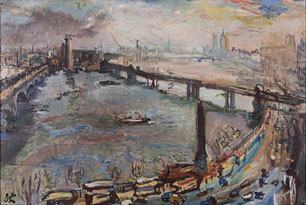 EXPRESSIONISM
London, Large Thames View 1, 1926
Oskar Kokoschka
1926
Buffalo AKG Art Museum
So that's it, our round-up on the introduction to the history of landscape painting, we hope you enjoyed this month's oil painting blog. Next month, we have a choice of blogs to choose from so it will either be more on landscape painting looking at artists such as Casper David Friedrich and whom they influenced, landscape paint palettes, how to go about painting a landscape or something totally different. So, keep posted for our next one.
Best Wishes
Emily
* As always, I am not affiliated with any brands, stores, or persons I may or may not mention and your use of any of these products, links and the like are your own risk and it's up to you to do your research/homework before you use them. This is just my opinion and experience.
[1] Art, The Definite Visual Guide (Dorling Kindersley 2008), pg 18
[2] E A Lòpez, 'All you need to know about Chinese Landscape Paintings…' (Online 11 March 2020) https://www.kooness.com/posts/magazine/the-history-of-chinese-landscape-painting >accessed 05 September 2022
[3] Museo Nacional Thyssen-Bornemisza, 'Albrecht Altdorfer (?), ca. 1480-Ratisbon, 1538' (Online 2022) https://www.museothyssen.org/en/collection/artists/altdorfer-albrecht >accessed 05 September 2022
[4] F. Scarfe, 'How to Paint Atmospheric Landscapes in Acrylics' (Search Press Limited 2017), pg 39.
[5] Blumberg, Naomi. "landscape painting". Encyclopaedia Britannica, 3 Apr. 2020, https://www.britannica.com/art/landscape-painting. Accessed 5 September 2022
[6] https://en.wikipedia.org/wiki/Landscape painting
[7] F. Scarfe, 'How to Paint Atmospheric Landscapes in Acrylics' (Search Press Limited 2017), pg 39
[8] Ibid
[9] Author unknown http://www.visual-arts-cork.com/genres/landscape-painting.htm >accessed 05 September 2022
Become an insider, subscribe to receive
Stunning previews of new art, discounts, painting tips and early booking for painting workshops.