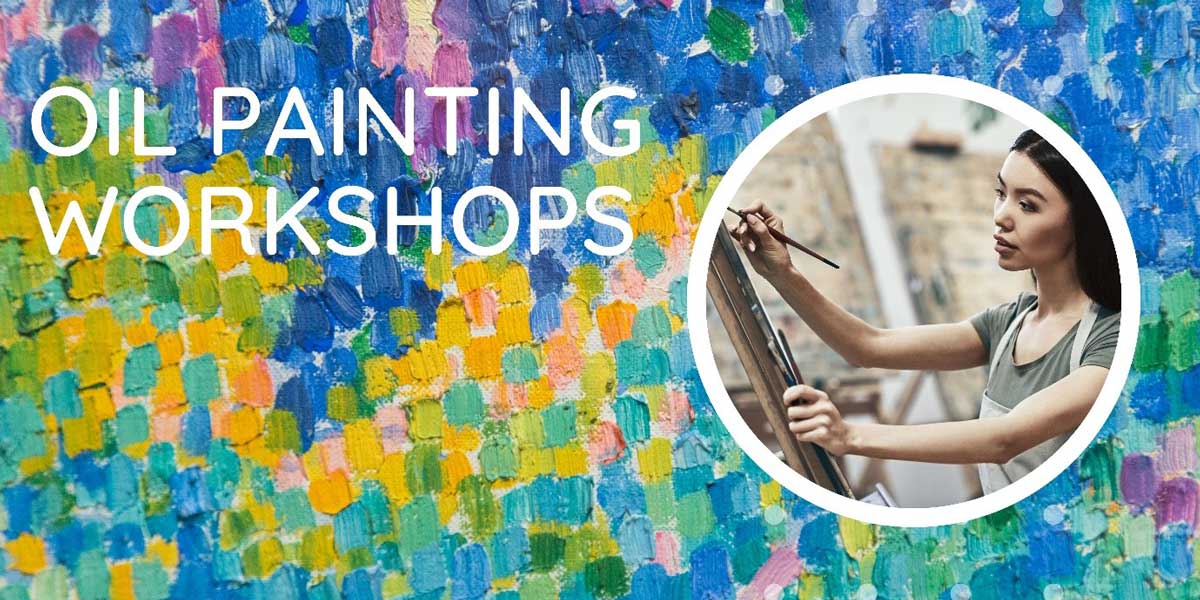 Attention All Budding Artists!!!
Our spring workshop dates have been released…
4 Week Oil Painting Course Thursdays/Fridays
&
Saturday Beginners Oil Painting Master Workshop
"If you are struggling to find time to kick start your painting journey, being pulled from billy to jack between your career, running a home, getting kids ready for 'back to school' and have had basically NO 'me' time all summer long OR have just or are about to retire and are seeking a hobby that will take you through this new adjustment and the long winter months…"
AND
"Do you wish, like I once did, during my 20+ years in Construction, that you:
knew the steps on how to start and finish a painting;

had some understanding of:

colour mixing,
value,
cropping and composition,
how to lay out your palette and the limited/colour palette,
how to use brushes and knives,
how to enter that art store and actually, for once, know what you need,

could apply some of the techniques of the old masters in your painting,
knew how to be Braver, Bolder, More Expressive and Spontaneous with your oil painting and being able to add a little of your own personal magic!!
THEN look no further as we have the perfect solution….
This September, we are hosting a range of Oil Painting Workshops here at my own Painting Studio.
So, Typically, What will you gain from these Workshops?
You will learn:
how to prepare your painting boards and what canvases to use;

the different ways you can start a painting;

tips for composition, cropping, colour mixing;

how to use and clean your brushes;

simple ways on how to mix your colours and arrange your painting palette;

the steps through to finishing a painting;

depending on the complexity of the paintings & your level of skill – how to paint 2-4 works by an Old Master;

to use a limited palette;

how to be less Tight, less Afraid and more Creative with your painting.
Who are some of the Old Masters you are likely to meet on your Oil Painting Journey with me?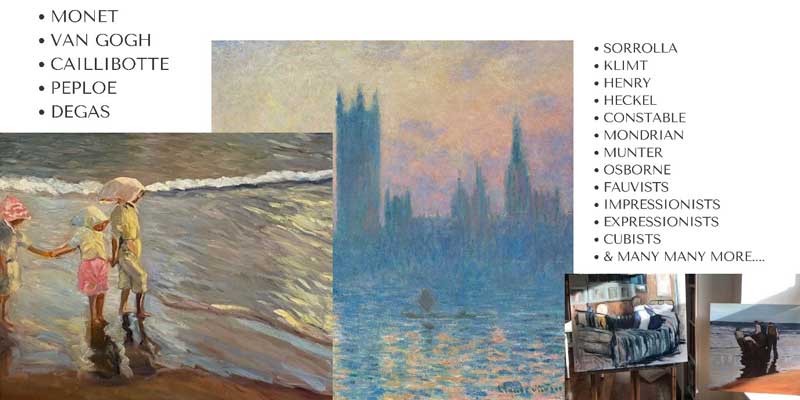 What the Students are saying about these workshops…
"I was a complete beginner when I joined Emily's workshop. But Emily gave me the support and confidence to paint. With time, I painted the great masters, including Degas. I have sent my son in Australia my paintings which hang proudly in his home. The classes are so relaxing. I have made lifelong friends. Emily is a brilliant teacher. I cannot recommend her classes highly enough."

Marion Ryan
"I joined Emily's art workshop classes a few years before covid. The minute I walked in, I felt the homely atmosphere and also the enthusiastic energy. I had no knowledge of painting; I was a raw beginner.

Emily's gift of education, encouraging and demonstrating helped everyone relax and just enjoy. From palette, colour mixing, importance of light and dark colours, warm and cold colours, the start to the finish of a painting, we learn so much. We all became friends, laughed a lot, encouraged each other too. At teatime, Emily talked about artists of time past, their patrons and which artists knew each other in those days.

I miss the classes and friends so much. I miss Emily's infectious laugh and her enthusiasm. Hopefully not much longer to wait for the classes to start again. I've my name on the list. I would recommend this art class to everyone, as you forget all that's going on and drift into your own world while painting. We all need this escape from today's world."

Helen Hanifin
"Emily's workshops are friendly, fun and very productive. Emily guides her students through painting techniques and styles with humour and great encouragement. Her mini art history lessons are informative and very entertaining. Emily takes a genuine interest in each student and her advice and instruction are always personally tailored. Her studio is a wonderful cosy environment in which to learn and just be creative, surrounded by Emily's own beautiful paintings."

J. Merrills
"I started classes with Emily a couple of years ago just before the Pandemic hit. From the minute I walked through the door of Emily's Studio, I felt I had finally found my tribe. Emily is an amazing art teacher. I learned so much about techniques, about the history of art paintings we were replicating. Lots of great banter and encouragement along with guidance. Really miss the art classes and the people and am looking forward to when we may safely return again."

Marie Lane
Who is your tutor for these oil painting workshops?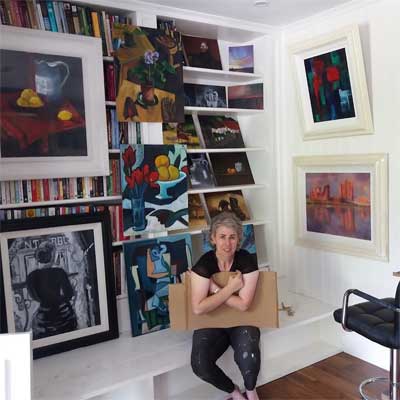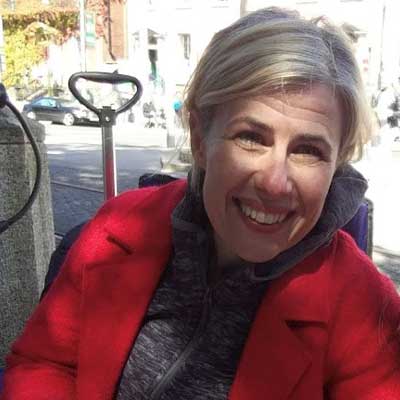 Emily is a professional artist who has run hundreds of oil painting workshops in her art school, taking each beginner student gently on and through their own painting journey, so that they can tackle any painting by the old masters. The techniques Emily teaches help each student to master and go on to develop their own style of painting and skill to create their very own originals.
Emily recently appeared on RTE's Nationwide on Friday 12th November 2021, we hope you managed to catch it. Unfortunately, it is no longer available to watch on the RTE Player.
So, apart from all of the above, what else is included:
A really enjoyable, relaxing class, free from any of the stresses of everyday life, in a working studio surrounded by art. Everything will be taken at your speed without any pressure.

You will learn with Expert Tuition and Step By Step instruction.

Limited class sizes – there will only be you and 3 other students for the full duration.

A full set of electronic notes.
And along with all of that
You get to take home your paintings and the feeling that anything once again is possible and the know-how and skill to create your own paintings at home.
Spring Timetable
(PLEASE NOTE STUDENTS ALREADY ENROLLED IN THE WORKSHOPS HAVE PRIORITY)
You can choose either a morning, afternoon or evening workshop. You stay in this workshop for the 4-week duration and you must be able to attend the full 4 weeks as unless I cancel/suspend them there will be no refunds or moving between workshops. Masks will have to be worn for the full duration and you will need to be double vaccinated and boosted.
Day
Dates
Times
Cost
Thursday
20, 27 January and 03, 10 February 2022
Morning 10am – 12pm or
Afternoon 2pm – 4pm or
Evening 6pm – 8pm (NEW)
€150
17, 24 February and 03, 24 March 2022
Morning 10am – 12pm or
Afternoon 2pm – 4pm or
Evening 6pm – 8pm
€150
Friday
21, 28 January and 04, 11 February 2022
Morning 10am – 12pm or
Afternoon 2pm – 4pm
€150
18, 25 February and 04, 25 March 2022
Morning 10am – 12pm or
Afternoon 2pm – 4pm
€150
Saturday Morning Beginners Workshops
Saturday beginner workshops will be a stand-alone masterclass that will be held on 26th February (Fully booked) and 26th March 2022. I will supply all materials. The workshop will be from 10 to 1pm and will cost €165. (Please note, you can take home your paintings but not the materials used to create them)
I will be showing you what materials to get and how to use them. How to prepare your boards, clean your brushes and how to paint a painting from beginning to end. Depending on your skill I hope that we might complete 2 paintings – one black and white which will help with value and ease you into painting and one colour. The studies will vary over the coming months but for September / October we had a Caillebotte, Matisse, Paul Henry and a Peploe for you to choose from.
If you are ready to kick start your art journey come join us this term and click the button below:
Our mailing list members already have PRIORITY to attend these workshops SO if you would like to join our mailing list to receive more information and be the first to know when we have availability do so below:
Please be sure to tick the box for Workshop Waiting List
Become an insider, subscribe to receive
Stunning previews of new art, discounts, painting tips and early booking for painting workshops.
The Studio
Oil painting workshops are held at my art gallery and studio located just outside Dunboyne Co. Meath beside the Hatchet Pub, and centrally located between Kilcock, Maynooth, Dunshaughlin and approximately 20-30 minutes from Trim and Clonee by car. Not far from Kildare, Dublin, Westmeath and Wicklow.
The gardens are an on-going process with a full meadow to the side of the house along with a bee apiary in the little woodland.
The workshops and masterclasses change from season to season to suit students' needs and indeed to allow me to take time to paint and get ready for upcoming exhibitions held throughout the year.
* Due to COVID we are not providing tea/coffee or light refreshments, and we have temporarily suspended our warm-up pastel drawing section and our art history section. But I will be sending you out a full set of the art history section notes for you to read at your leisure.