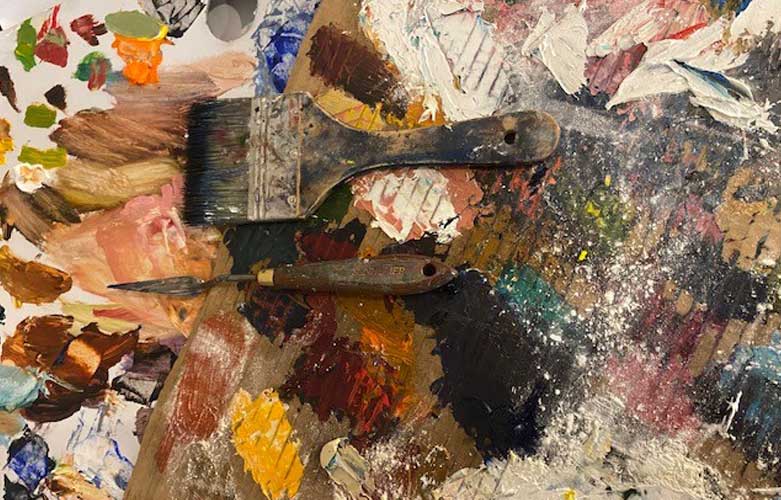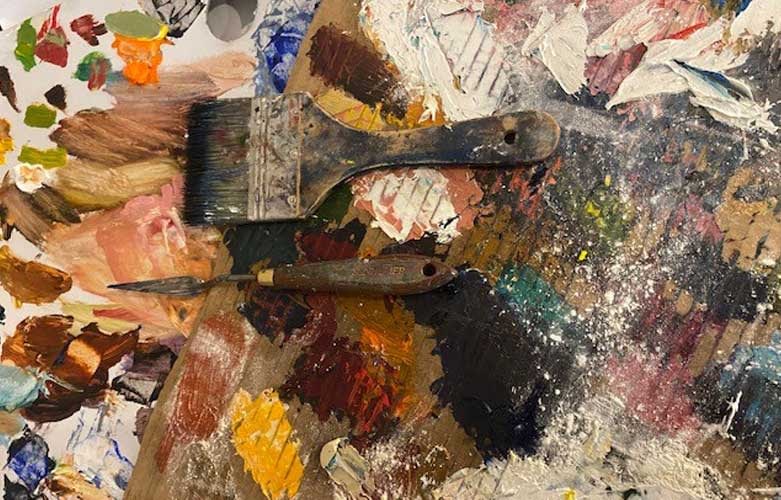 Oil Painting Palettes – What Do I Need To Know?
Céad Míle Fáilte – a hundred thousand welcomes – once again to Emily McCormack-Artist's blog on all things Oil Painting.
This week, I'm sourcing pallet's of a different kind, the large timber ones for making a compost heap.
Every year I say to myself, I'm gona do it, make my very own compost! But then doubt sets in, and I think I'm a weakling and how the hell am I gona turn all that debris and will I have rats? Or worse still, a decaying slimy mess at the bottom of the garden, instead of that lovey rich loam soil that they showed us how to make during my 12 weeks at Ballymaloe Cookery School, now so many moons ago. So, I will keep you posted on whether I succeed with this quest or fail again this year.
Now, on to Oil Painting Palettes that you guys want to know about…
By The Way Introduction – A Little Useless Tit-Bit To Start Us Off
Oil Painting Palettes were first depicted in the hands of us Women Painters, in or around 1400.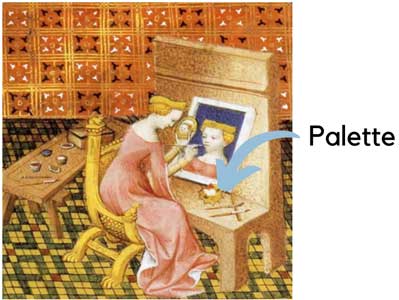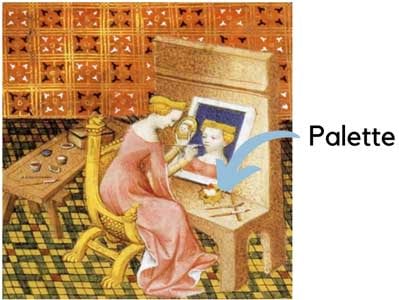 Marcia
Extract from Boccaccio's book of Famous Women
So The Meat Of It Is As Follows
You don't need to get to hung up on what you put your oil paint on, the golden rules as I see them are:-
The surface should be as wide and flat as possible for you to mix your oil paints on;
Be easy to clean;
If holding it ensure its lightweight, fits snuggly over your arm and into your thumb; and
Is not one of those terrible plastic pallets with the wells in them – these are for acrylic and/or watercolour paints – not oil paints.
Materials You Can Use For Your Palette
So you can use tear-off (disposable) paper palettes, glass, timber or cardboard. I have included references to a number of products and stores below but please note I am not affiliated in any with them nor am I receiving any commission or payment to recommend them.
The Tear Off (Disposable) Paper Palette
I have used them all, but I still revert back to the Tear Off (Disposable) Paper Palette (usually 12 x 16" and have 40 sheets or so) as I don't have to clean them, I just tear off the page when I am finished.
Again, for those ECO-friendly people out there, this is wasteful, so you might prefer to use glass or timber as a more sustainable product.
For me, they don't work, as I'm often called from the studio and when I eventually get back the paint has dried to a crud and I end up throwing out the natural palette as well. But don't follow in my footsteps.
Pricewise, you might be lucky enough to find the tear off paper palettes in K&M Evans at the €6 – €7 mark otherwise they can generally cost €15 upwards so that's a lot when you think you could just make one from glass or timber and have it forever.
Another downside to the tear-off palette is that they are generally white so this can affect your values when colour mixing.
NEW WAVE has gotten over this by producing a grey-toned disposable paper palette. Again, depending on where you get them, they can vary in price. I have only ever held one that a student brought to the Painting Workshops and I thought it was lovely, but it was a little heavy to hold for long periods of time and I have short limbs, so it felt a little uncomfortable on the arm. But, that being said, I still thought it was a great idea and will still purchase one to try it out here in the studio. They have a rectangular tabletop and a hand-held palette paper pallet as shown below and are available from Jacksons Art.
Glass
Glass – make sure its tempered or toughened glass before using it as a palette, no point in causing yourself an injury, it's a hard enough life out there as it is.
With glass, you will need a table to put it on and a great idea is to place a mid-value toned sheet under it as that way you will see the colours more accurately when you are mixing them and you can better gauge their value.
An artist I have gotten the pleasure of meeting at various artworks shops, had a great top tip, where she uses a glass sheet from out of your fridge – hers, was very robust so just make sure if using, it's safe to use – if not – so be it – on your own head.
Timber
You can make a large table-top palette with a sheet of MDF or plywood and give it a few coats of varnish and oil– there are plenty of top tips on how best to prepare these on the internet. Again, the mid tone colour of the MDF is great for mixing your paints on.
Alternatively, you can use a hand-held timber palette which come in all different sizes, materials and shapes such as kidney, round and/or rectangular.
You can also get left-handed and right-handed timber palettes from New Wave, who also do one in neutral grey – other brands include Cappelletto, Jakar, Mabef and Zecchi to name a few. You can pay as little as €10 to over €100. Regardless of price, the main thing is to find a palette you love using as it's a key and vital part of your kit and developing your Craft including your Colour Mixing skills.
Cardboard
Depending on what I am painting, you will often find me in the studio with a large cardboard palette that I have made myself. I love using them. They are lightweight, strong and the added value that they leech or absorb the oil out of the paint so I end up with a thicker blob of paint and I don't have to go to the bother of stopping mid flow to add additional calcites or waxes.
So…
In Summary, your world is your oyster in terms of palettes – you can make em from timber, glass or cardboard, buy them for as little as €10 or treat yourself and pay over the €100. But whatever you choose, make sure it's an exact fit that even if you are holding it or having to move around to scoop paint up from a tabletop that it's efficient on your body movements and that you really just don't notice it while you are listing to great tunes and painting your heart out.
NEXT WEEK we talk mediums…
Emily McCormack
March 2021
Become an insider, subscribe to receive
Stunning previews of new art, discounts, painting tips and early booking for painting workshops.