Oil Painting And Drawing Workshops
COVID update – Unfortunately all workshops are currently suspended due to the Covid-19 lockdown.
If you would like to be the first to know about my workshops when things return to normal, please subscribe to receive updates and join our workshop waiting list.
Be the first to hear about my new blog posts, workshop dates and new art.
Oil painting and drawing workshops are held at my art gallery and studio located just outside Dunboyne Co. Meath beside the Hatchet Pub, and centrally located between Kilcock, Maynooth, Dunshaughlin and approximately 20-30 minutes from Trim and Clonee by car.
The gardens are an on-going process with a full meadow to the side of the house along with a bee apiary in the little woodland.
The workshops and masterclasses change from season to season to suit students' needs and indeed to allow me to take time to paint and get ready for upcoming exhibitions held throughout the year.
Autumn to Spring, I mostly teach the foundation level courses which are as follows:
Foundation Level 1 – (FB1)
4/5 week 3 hour beginner's class or indeed an improvers class who are not familiar with all the materials on the market, how to prepare canvases and boards and techniques such as grisaille and glaze, ebauche, maximising optical techniques, composition and design.
Typically, we do a set charcoal or pastel drawing to warm up, then 1-2 paintings depending on what is set – so we do on:
Week 1 – a local landscape in grisaille and glaze (Technique)
Week 2 – a painting in ebauche and then a little seascape (Technique)
Week 3 – a study of a painting by Monet (Technique)
Week 4 – a monochrome painting by Matisse (Composition)
Week 5 – a floral painting set by me (Design)
During the break while we have a cuppa and a biscuit and I'll take you through a different set of notes each week on either materials, artists, composition, technique and design.
Please bear in mind the paintings that I set for this workshop are purely to give you the basics in drawing and painting.
Foundation Level 2 – FB2
4/5 week 3 hour beginner/improver's class where we carry out charcoal/pastel drawings with figures, flowers, and works by Van Gogh, Munch and Picasso. We also carry out oil painting studies by artists such as Caillebotte, Monet and Peploe. During the tea/coffee break we run through a set of notes on gothic to early Renaissance art and the key artists.
Foundation Level 3 – FB3
4/5 week 3-hour improver class we carry out studies of charcoal/pastel drawings by Matisse, Surat, Picasso, a seascape and 2no. 15mins sketches – one a self portrait and the other from memory. The paintings are getting a little more complicated and will take 2 nights – and we prepare studies by the fauvist Vlaminck and Van Gogh and a little monochrome self portrait. During tea/coffee, we look at the following art movements – all the ism's – Fauvism, Neo-impressionism, post-impressionism, cubism and a dedicated session to Monet.
Foundation Level 4 – FB4
4/5 week 3 hour improver class we undertake studies in charcoal/pastel by Shinn, Gainsborough, Redon, Degas and Manet. For the paintings, we look at Munch, Klimt, Degas and Van Gogh and a colour self portrait. The notes at tea are all dedicated to colour.
Foundation Level 5 – FB5 
4 week 3 hour workshop where we complete charcoal / pastel sketches based on works by Rivers, Waterhouse, Leithton and a head study. We also complete 2no. oil paintings over the 4 weeks as they are getting a little more complex and include a painting by Monet which hangs in the National Gallery and the second is by Sorolla. During Tea / Coffee we take a look at the key paintings in the National Gallery and the lives of the artist, sitter and / or benefactor.
Foundation Level 6 – FB6 
4 week 3hr workshop where we complete charcoal / pastel sketches based on works by Manet, Picasso, Yeats  and Moore. We also complete 2 oil paintings over the 4 weeks as they are getting more complex and include a painting by Osborne and Van Gogh – one of his Sunflower paintings. During Tea / Coffee we take a look at various Irish Artists, their lives, work and technique.
Foundation Level 7-9 – FB7 – FB9
3 – 4 week 3 hour workshops are currently being designed.
Workshop Costs:
5 week workshop as per timetable – €125.00
4 week workshop as per timetable – €100.00
3 week workshop as per timetable – €75.00
Payment prior to commencement of the workshop.
Will include a crash course for beginners in oils, how to paint like the Masters – their techniques and palette – and having a go at some of their paintings and techniques. I will be setting different paintings for each masterclass workshop.
Currently, I'm working on a Beginners Workshop, a Van Gogh and Complementary Colour Workshop, a Still Life with the Masters Workshop, an Irish Masters Workshop, a Monet and Colour Workshop and a Sorolla and Light Workshop. If you want to be put on the mailing notification list contact me.
Materials – please bring your own materials – a list of materials for each workshop will be provided upon your booking confirmation.
Lunch – please bring a full packed lunch – tea / coffee and biscuits will be provided free of charge. I can also provide the use of delph and cutlery. be provided at an additional charge but only if required by 6 or more persons. This will include either a) soup and sandwiches or a salad or b) a salad with ham or turkey. Orders must be confirmed 6 days before each workshop so that I can place same with the caterers who can cater for various dietary requirements. 
Duration – 10.30am – 4.30pm.
Cost – €125.00 per person
On Site parking available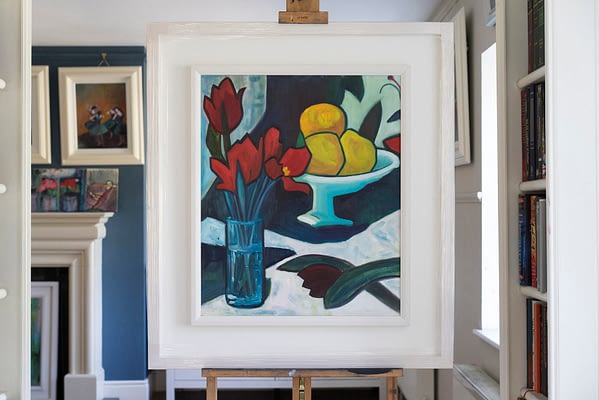 Individual or Group Workshops
If you would like 1 to 1 tutoring or you have a group of 4 or more persons that would like to do a once off 3 hr or 1 day workshop please contact me.
Life Drawing Sessions will be provided in the Spring to Junior and Leaving Cert Students  – Watch this space!!
Plein Air Painting
If you would like to go painting outdoors and have a group of 6 or more please contact me and I can arrange it and provide tuition.
Secure Your Place
If you would like to book any of the painting workshops, can you please make a deposit of €25 to secure your place.
Please ensure if enrolling on any of the above workshops that you can attend each class within the workshop as much to my regret no refund or drop in spaces on other workshops can be provided for the workshop class / session(s) you cannot attend or cancel. The reason for this is due (a) to the limited class size and (b) to avoid any disruption to the other students. 
What Do I Need To Bring?
Please download our materials list below.
If you have questions regarding the workshops or availability, please contact me.
"Every artist was first an amateur."
(Ralph Waldo Emerson)