4 Week – Oil Painting Course
Our 4-week oil painting course is part of a 2-year-long structured programme, covering a wide range of oil painting styles and techniques that will provide you with the necessary skills to paint in oils.
The painting programme runs from September to May. The idea is you can attend 1 or more 4-week oil painting courses, sequentially or intermittently, to suit your own personal commitments, and you can continue where you left off.
It is designed for the complete beginner; the hobbyist artist looking to learn more and have a general understanding of oil painting and those at intermediate level who never had any formal tuition in oil painting.
We recommend (however, it is not mandatory), that if you are a complete beginner and you are unsure if you would like oil painting that you attend our Beginners Introductory Workshop to Oil Painting before committing to the 4-week workshops.
Each workshop is a 2-hour painting session, held once a week, in our studio, over 4 weeks.
The paintings set each week, are designed to teach you a new painting skill, technique, or colour palette. Depending on how many 4 week courses you enrol upon, you will typically complete painting studies by past master artists such as Monet, Caillebotte, Peploe, Van Gogh, the Fauvists, Klimt, Munch, Constable, Leech, Cezanne, Seago, Henry, Degas and many more.
The paintings set are also designed to provide you with the skill to paint still life, landscape, seascape, cityscape, interiors, the figure, portraiture and florals.
Normally, we paint for 2 hours, with a 10-15 minute break in the middle, where I take you through topics such as:
oil painting materials, where and what to buy,
preparing your painting surfaces,
laying out your palette and using a limited or full-colour palette,
brushes and palette knives – using, cleaning, storing,
value, the colour wheel, colour mixing and temperature,
the various ways to start and finish a painting,
composition and design including cropping and creating notans,
how to troubleshoot particular painting problems,
old masters and their techniques including grisaille ebauche and glazing,
painting styles – impressionism, neo-impressionism, expressionism etc.
Within each painting workshop, I will be there on hand to show you step by step how to start, paint and finish each of the paintings and to expertly guide you through each of the new painting techniques that you will learn to master.
These painting workshops have been designed with the sole aim to make you braver, bolder, more expressive and creative in your painting. So that you will be able to add a little magic to your own paintings. Each workshop is run in a very relaxed and friendly environment and we go entirely at your own pace.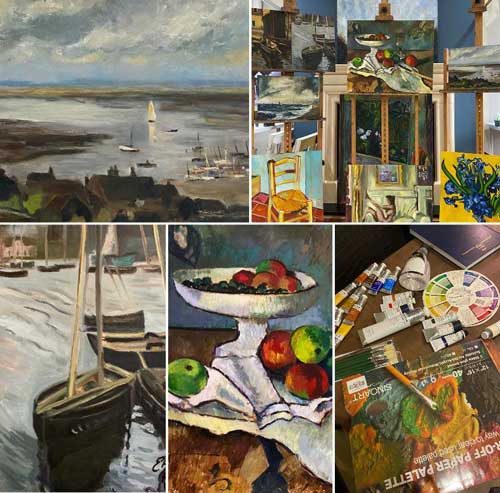 Workshop Name: 4-Week Oil Painting Course
Cost: €150
You must be able to attend each of the 4 workshops as there will be no refunds or moving between workshops – See our Terms and Conditions before enrolling and making payment.
Level: Complete beginner or hobbyist artist or intermediate level without any formal tuition in oil painting
Duration: 2 hours per week for 4 weeks
Materials: Follow the link for the required materials and suppliers.
For those of you that would a list to take to shops or help you pack up your kit bag, there is a printable checklist here.
Location: These oil painting workshops are held at our art gallery and painting studio located just outside Dunboyne, Co. Meath beside the Hatchet Pub, and are centrally located between Kilcock, Maynooth, Dunshaughlin and approximately 20-30 minutes from Trim and Clonee by car. In addition, our art school is not far from Kildare, Dublin, Westmeath, Drogheda and Wicklow.
Choice of dates/sessions for November 2022:
Thursday

Morning 10am – 12pm – start 10th November
Afternoon 2pm – 4pm – start 10th November
Evening 6pm – 8pm – start 10th November
Friday

Morning 10am – 12pm – start 11th November
Afternoon 2pm – 4pm – start 2nd December
Choice of dates/sessions for December 2022/January 2023:
mixed levels – no workshops between 17 December 2022 – 4 January 2023
Thursday

Morning 10am – 12pm – start 8th December
Afternoon 2pm – 4pm – start 8th December
Evening 6pm – 8pm – start 8th December
Friday

Morning 10am – 12pm – start 9th December
Afternoon 2pm – 4pm – start 13th January
"If you hear a voice within you saying, "you cannot paint" then by all means paint and that voice will be silenced"
(Vincent Van Gogh)
"Emily's workshops are friendly, fun and very productive. Emily guides her students through painting techniques and styles with humour and great encouragement. Her mini art history lessons are informative and very entertaining. Emily takes a genuine interest in each student and her advice and instruction are always personally tailored. Her studio is a wonderful cosy environment in which to learn and just be creative, surrounded by Emily's own beautiful paintings."
– J Merrills
Terms and Conditions
Please note our terms & conditions before enrolling and paying for our workshops.
CLASS SIZES – COVID 19
To keep everyone safe, the class sizes are limited to 5 students. We have screens installed between each workspace. Masks will have to be worn for the full duration and you will need to be double vaccinated and boosted.
BOOKING
Please email me stating which workshops you are interested in, or use our contact form. I will let you know the availability and will provide you with a booking link for you to pay for the course online. There is no option for refunds or moving between workshops unless prior agreed with myself, please see our terms and conditions below for further information.
Our mailing list members have PRIORITY to attend these workshops. So, if you would like to join our mailing list to receive more information and be the first to know when we have availability do so below: Please be sure to tick the box for Workshop Waiting List
I promise not to bombard your inbox and you can unsubscribe at any time.
Become an insider, subscribe to receive
Stunning previews of new art, discounts, painting tips and early booking for painting workshops.